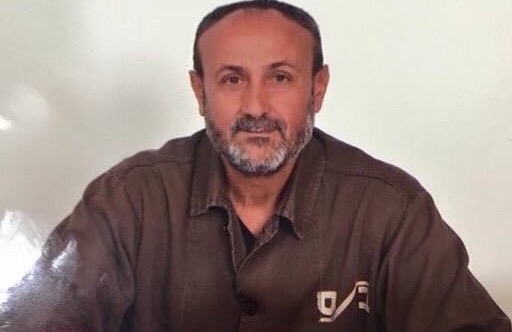 Murderer or Mandela? Marwan Barghouthi on his way to the top in Palestine
Speculations among journalists and analysts as to who will become the successor of ageing Palestinian president Mahmoud Abbas are beginning to pick up. Frequently mentioned candidates in this intra-PLO power struggle include individuals such as Saeb Erekat, Mustafa Barghouthi, Mohammed Dahlan, Salam Fayyad, Majid Faraj and Jibril Rajoub.
However, the candidate with the most popular support among ordinary Palestinians is less often mentioned – the imprisoned Intifada activist and Fatah leader Marwan Barghouthi. According to recent polls, Barghouthi would win a landslide victory in the next Palestinian presidential elections, no matter which of the other candidates he would stand against.
Recent polls also testified of the deep radicalisation of Palestinians: 'two thirds continue to demand the resignation of president Abbas; a growing majority supports return to an armed intifada; and a growing majority continues to reject the two-state solution.' (PSR, opinion poll no. 58)
While there are indeed several circumstances which are clearly not in Barghouthi's favour (for instance the fact that he is in prison), there are nevertheless also many circumstances to his advantage.
One such advantage is that Barghouthi is the only Palestinian leader who has the ear of the Palestinian street to such an extent that he would be able to make the ongoing wave of knife attacks stop instantaneously, would he tell activists to do so. Another possible advantage is his demonstrated pragmatism in politics, having both recognised Israel in its 1967 borders and supported peaceful negotiations in the past.
This article has been written for the journal Human Security (Mänsklig Säkerhet). It draws the contours of Barghouthi's political life and discusses his chances of reaching the presidency after Abbas.
Read the whole article here (in Swedish)
'Mördare eller Mandela? Marwan Barghouti på väg mot toppen i Palestina', Mänsklig Säkerhet, 24 februari 2016.
Read more
'The Palestinian Napoleon', Christian Science Monitor, 3 July 2003.
'Marwan Barghouti: Radical pragmatist', al-Ahram Weekly, 3 June 2004.
'What Barghouti really means to Palestinians', The Federal Observer, 5 April 2012.
'There will be no peace until Israel's occupation ends', The Guardian, 11 October 2015.
'Palestinian public opinion poll no. 58', Palestinian Center for Policy and Survey Research, 14 December 2015.