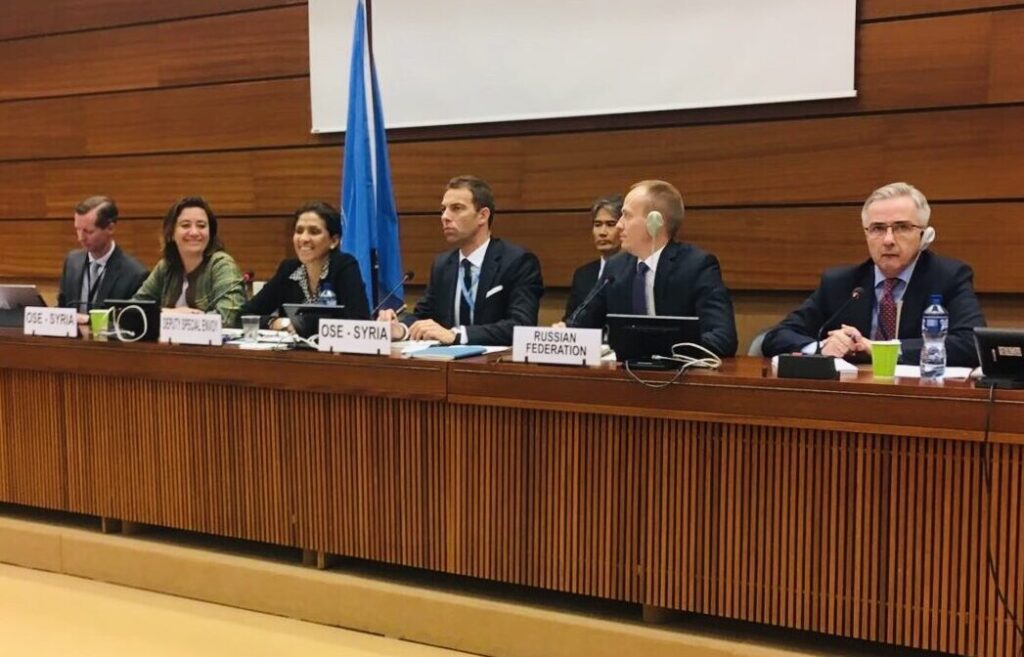 Dr Björn Brenner has joined the United Nations to serve as the Military Advisor to the UN Special Envoy for Syria. Before the conflict started, Bjorn studied in Syria staying in Damascus, Aleppo and Raqqa for long periods of time. When the war started, Bjorn's research focus changed to Israeli, Palestinian and Jordanian domestic politics. With this UN appointment, Bjorn is shifting his focus fully back to Syria, to serve as part of the dedicated team of experts that supports and is led by H.E. Staffan de Mistura.
United Nations Offices in Geneva and the Office of the Special Envoy for Syria
PRESS RELEASE IN SWEDISH (from the Swedish Defence University)
FN har utsett Försvarshögskolans Björn Brenner till ny rådgivare och medarbetare till Staffan de Mistura, generalsekreterarens specielle sändebud till Syrien. Brenner kommer vara stationerad vid FN:s europeiska högkvarter i Genève.
I sin roll som FN-tjänsteman kommer Björn Brenner bevaka den politiska och militära utvecklingen i Syrien och rapportera direkt till FN:s specielle sändebud Staffan de Mistura. I jobbet ingår även att knyta kontakter med konfliktens olika parter för att finna gemensamma intressen och möjliga vägar framåt mot ett slutligt fredsavtal.
Brenner har en mångårig erfarenhet av säkerhetspolitiskt arbete, först som svensk marinofficer med placeringar i Ryssland och Frankrike och sedan som Mellanösternforskare vid Försvarshögskolan. Han kommer närmast från en tjänstgöring vid forskningsinstitutet IFPO i Jordaniens huvudstad Amman.
-"Det är ett internationellt uppdrag mitt i världspolitiken och det känns därför särskilt hedrande att bli tillfrågad. Arbetet att mäkla fred i Syrien har av vissa kallats världens svåraste jobb så jag möter denna uppgift med ett stort mått av ödmjukhet." säger Björn Brenner.
Brenner är doktor i freds- och utvecklingsstudier och har bland annat utbildats vid den franska officershögskolan för marinen, Ecole Navale. Med utnämningen i FN följer befordan till kommendörkapten.