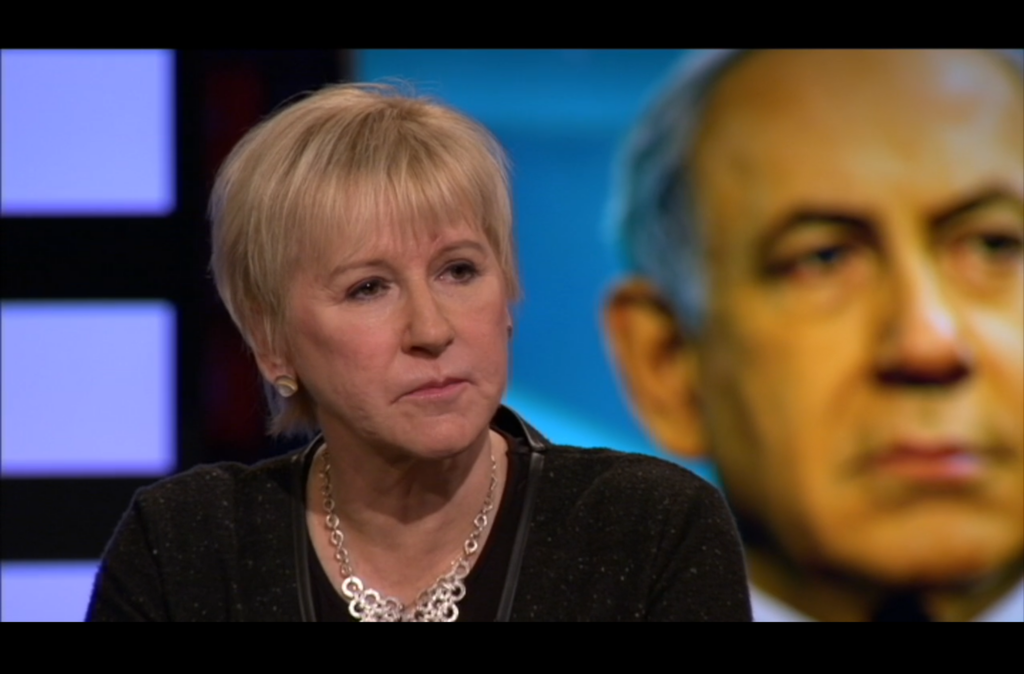 Relations between Sweden and Israel have continued to deteriorate over the past months.  Sweden unilaterally recognised the state of Palestine on 30 October 2014 and diplomatic relations between the two countries have gradually worsened since then. The latest move by the Netanyahu government to stop the Swedish foreign minister from travelling to/via Israel marks an all-time low.
According to FM Margot Wallström, Sweden's intention has never been to alienate Israel but rather to develop closer ties with both countries at the same time. This broader approach includes empowering Palestine in its currently asymmetric relationship with Israel. Ultimately, as FM Wallström sees it, such an empowerment will help to push the two parties closer to a settlement of their century-long conflict.
However, the Israeli leadership sees it differently, and has instead perceived Sweden's actions as hostile to the Jewish state. Israel's view is that by predominantly focusing on Palestinian rights, without talking equally about the security needs and rights of Israelis, Sweden is de facto failing to respect Israel's right to exist.
On 13 January 2015, as an act of protest against Sweden's 'biased' policies, Israel declared FM Wallström not welcome to Israel in her official capacity.
In practice, this block also means that FM Wallström will not be able to travel to Palestine during the time it is in effect. As working actively with both Israelis and Palestinians for peace is part of FM Wallström's policy agenda, this latest move by Israel hinders that work and is therefore particularly unfortunate for Wallström.
The most recent escalation between the two countries was set off by a statement made by FM Wallström in a parliamentary debate on 12 January 2015. In the debate she called for a probe to be made into possible extrajudicial killings of Palestinians during the last few months of violent unrest in Israel. A similar statement had been made by FM Wallström in December 2015, but at the time, when she was interviewed in the foreign affairs TV show Agenda, she claimed that her statement had only referred to general concerns about extrajudicial killings anywhere and was not specifically directed towards Israel.
However, when this second statement was made in parliament yesterday, now clearly pointing out Israel as possibly allowing extrajudicial killings, Israeli officials reacted with fury. FM Wallström's call was dismissed as 'anti-Israeli', even 'anti-Semitic' and as being largely apologetic of all the violence that is also being committed by Palestinians against Israelis.
In a commentary to the news agency TT, I seek to explain a few of the reasons behind FM Wallström's latest move. These include the fact that:
– FM Wallström has no longer anything to lose when criticising Israel as the two countries' relations are already at a low
– FM Wallström now feels strengthened in her criticism against Israel as recent weeks have seen experts in international law (Ove Bring among others), as well as international humanitarian NGOs (Amnesty among them), expressing concerns about how the Palestinian assailants are being dealt with
Read the full interview (in Swedish):
'Expert: FM Wallström now dares to go one step further', Commentary to News Agency TT, 14 January 2016.
Read more
'Israel calls in Swedish envoy over "extrajudicial killings" comments', Times of Israel, 13 January 2016.
'Mats Knutsson: An exceptional decision' SVT Nyheter, 13 January 2016.
'FM Wallström: Israel chooses to misunderstand my statements', SVT Nyheter, 17 December 2015.